I've always tried to avoid zombies.
Good idea, you say.
More specifically, I've always tried to avoid the term "zombie" in my fiction, or anything resembling it.
Or have I?
There are certainly creatures in my stories who act like classic zombies, as they appear in popular culture: Watchers, I call them, or shadowmen. They are men robbed of their souls, their eyes removed, and a "third eye" etched on their foreheads:
"…their cloaks the colour of darkness, and their faces pale and sightless, the hungry mouths hanging open like black pits, and the cruel mark of the Third Eye set deep into their foreheads."
A common trait of zombies is that they are essentially mindless, driven only by a never-sated desire for death, violence and human flesh. This mindlessness, or lack of agency, presents its own problems for the writer. How do you write convincingly about a character with such a lack of complex motivation (and usually with no higher brain functions at all, which also tends to result in their famously shambling gait)?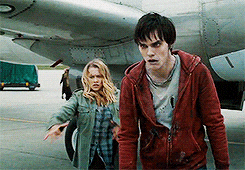 "Famously shambling gait."
The word "zombie" is of West African origin, from "zumbi", meaning "fetish", and existing folk traditions of the Africans brought to Haiti as slaves developed as part of voodoo belief (the "zombies" being controlled by sorcerers called bokors), and were picked up on by Hollywood in the Twentieth Century with films like White Zombie (made at a time when the US was occupying Haiti) and I Walked With A Zombie. Writers like HP Lovecraft and Richard Matheson ("I Am Legend") also contributed to modern zombie mythology, as of course did director George A. Romero with "Night of the Living Dead":
With the success of modern movies and TV shows like Shaun of the Dead, Zombieland and The Walking Dead, zombies have become big box office, and even a zombie-sceptic like myself can enjoy this kind of beautifully filmed gory mayhem, and there's no doubt that zombies lend themselves well to comedy and satire. But the interaction between zombies and ordinary humans in these stories, and the knowledge that zombies were once just like us, is surely key to their appeal. A story featuring only zombies might quickly become tedious. At the very least the dialogue would be somewhat limited.
Wraiths, on the other hand, are harbingers (rather than bringers) of death, and in English folklore tradition can be seen between midnight and one o'clock on St Mark's Eve (24th April) – or sometimes Midsummer Night (23rd June) or All Souls' Eve (1st November) – trooping into the local church in the order that their human counterparts will die during the coming year. If you see your own wraith, or "fetch", then you too will be dead within twelve months. In 1608 a woman in Nottinghamshire was charged with "…watching upon Sainte Markes even at Nighte laste in the Church porche to presage by divelishe demonstracion the death of somme neighbours within this yeere", and some sources say the watcher must fast or circle the church before being able to see the wraiths.
The wraiths in my own stories are physical beings rather than ghosts, so I suppose in that sense they are more like zombies, under the spell of a witch or necromancer. But then there has never been a strict delineation between different supernatural creatures in folklore, and one of the joys of writing is the freedom to pick and choose!
Thank you for reading. For more of my writing please go here.